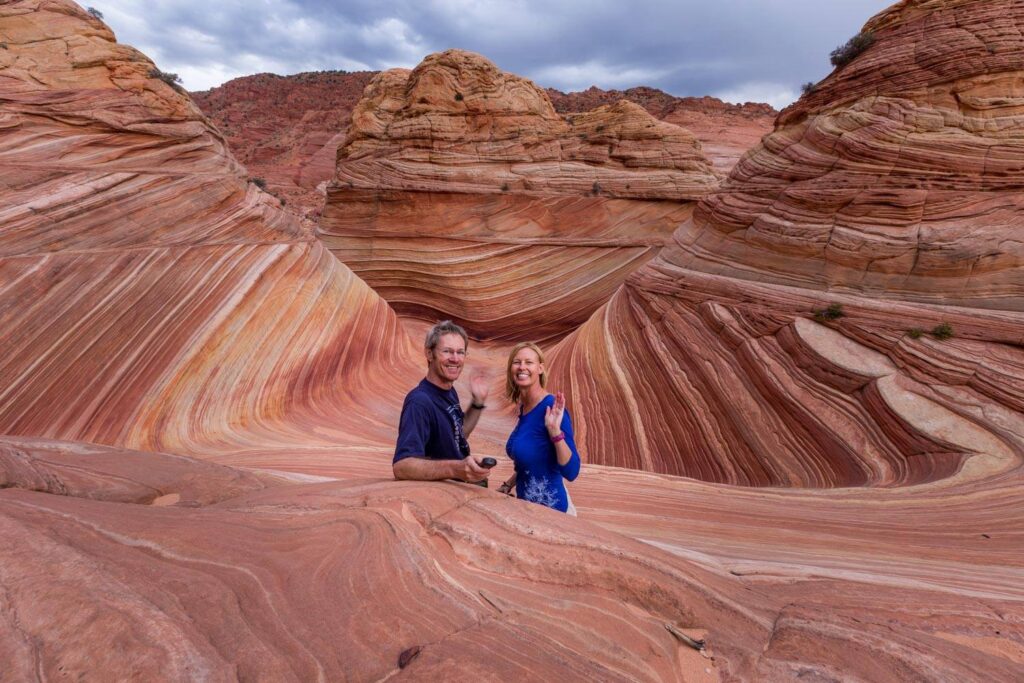 A couple weeks ago my wife and fellow-homeopath Cyndi were hiking to the Wave, in the North Coyote Butte wilderness of southern Utah. It is difficult to get a permit to visit here, since only 20 permits are given per day, and usually there are several hundred people trying to get one. We got lucky.
It's a 3 mile hike each way, across mostly unmarked rugged rocky, sometimes sandy desert terrain. They tell you to bring at least 1 gallon of water per person and give you a map that includes photographs of the irregular terrain and buttes, to help you navigate your way there, and to get back. Needless to say, we were also carrying a small homeopathic first aid kit, with remedies for heat exhaustion, bruises, and sprains.
Among the others lucky to get to permit that day was a couple from Switzerland, and a group of 6 Chinese students, as well as a couple from Germany. We were the first one to arrive after an early morning departure, but the Chinese were about a quarter mile behind us and soon joined us at the Wave for the obligatory photographs.
On the way back in the rain that Cyndi slipped on some wet rocks and caused a bit of scare, and I also slid once and hit my wrist hard to break my fall. Glad we had the Arnica Montana with us.  About a half mile from the parking lot on the return the Chinese were with us, and on of the girls slipped and landed hard on her ankle. Evidently she had injured it early in the hike also. She was slowly testing her weight on it after this second injury. Cyndi pulled out the Arnica and we gave her a dose, (after telling them I was a doctor, and this stuff really works.)
We moved on, passed their group, and were on the sandy trail ahead. After 5 minutes we hear her yelling behind us "Hey it's working! My ankle is better!" and she was walking in the deep sand without a limp. The "leader" of their group pulled out his cell phone and took a photo of the label on the Arnica bottle. We love spreading the word, and now there are some new converts to homeopathy.